THE ONE CENTER FOR MAKING DIFFERENCE IN PEOPLEíS LIVES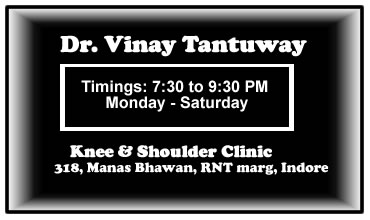 When you experience an injury or have pain, your goal is to seek health care that will return you to a quality lifestyle as soon as possible. You want a physician that is the best in their field one that can diagnose and treat you right the first time. At Greater Kailash Hospital ( a network of Max Hospital, New Delhi) Sports Medicine and Arthroscopy centre we treat every patient with individual and compassionate care.

No one orthopaedic problem is quite like another and no other Sports Medicine and Arthroscopy Centre is quite like ours! Whether you are a patient, a family member or a fellow healthcare specialist, we are here to provide you with the best care from one of the central Indiaís leading Hospital.

GK Sports Medicine and Arthroscopic Surgery Centre specializes in the treatment of Orthopaedic and sports injuries of joints and muscle of the knee, shoulder, elbow, ankle and hip. Our team of skilled physicians will provide you with a personalized assessment and treatment plan to meet your individual needs. Your care will be coordinated with a comprehensive team of sports medicine physician, physical therapist, athletic trainers and staff who stays current with the most recent treatments, technologies and procedures for all kinds of sports injuries, whether caused by accident, injury or aging.

Arthroscopy, also called key-hole joint surgery is one of the latest and advanced treatment modalities to treat joint injuries. In this procedure, using fine telescopes, the inside of the joint is visualized and surgical procedures are carried out using specialized instruments. Arthroscopic procedures for treating knee ligament tears and meniscus tears are the gold standard of treatment,. In addition shoulder problems like dislocations, rotator cuff tears are treated arthroscopically. Arthroscopy has a significant role in the management of an injured sports person and allows the sports person to return to the previous level of activity.
FIVE REASONS FOR KNEE ATHROSCOPY
(KEY HOLE SURGERY)
A person who has had an injury of the knee in the past and complains of giving way or instability while running or playing or recurrent locking of the knee followed by swelling. It may be secondary to a tear of the shock absorber (meniscus), a loose body or a torn ligament (ACL).
A person with degenerative osteoarthritic changes of the knee with repeated locking episodes or increased pain and swelling in the knee despite all conservative means like physiotherapy and medication and is not a candidate for Total Knee Replacement.
A person who has sustained a fracture around and inside the knee joint may be fixed more effectively with help of arthroscopy rather than the traditional methods of opening the whole joint.
A person who has had unexplained knee pain and swelling with no history of trauma or injury can have a diagnostic Arthroscopy and a piece of the tissue can be sent for biopsy.
A patient who has stiffness of the knee with restricted movements secondary to fracture around knee joint / knee surgery / rheumatoid arthritis or infection like tuberculosis.
HIGHLIGHTS:
Trained and skilled Arthroscopic surgeons.
State-of-art Operation theatres complimented with top of the line Arthroscopy equipment for all large joints viz. knee, shoulder, hip and ankle.
Advanced Arthroscopic procedures including: ACL reconstruction, PCL Reconstruction, Meniscal repair, Mosaicplasty for cartilage defects, Bankartís repair for recurrent dislocation shoulder and rotator cuff repair of shoulder.
Competitive packages available for Arthroscopic surgery of all major joints.
Sports medicine clinic backed up with Sports physiotherapy team & Sports nutrition clinic.