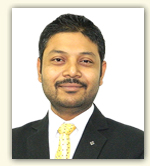 "Dr. Vinay Tantuway is an Asstt. Professor, in Orthopaedics at the Index Medical College Hospital & research Centre , Indore. He also practices as a consultant arthroscopist at Unique Super Speciality Centre, Annapurna Road, Indore. Dr Tantuway holds his O.P.D. clinics at LifeCare Hospital, sch.no. 74 part *II, Indore once a week (Please specify date and time or insert a hyperlink). Dr. Vinay Tantuway has been instrumental in promoting and advancing arthroscopy in Central India. He is also widely known for his involvement in the care of sports persons.

Dr. Vinay Tantuway graduated from Netaji Subhash Chandra Medical College, Jabalpur, M.P. and completed his M.S. in Orthopaedics from Gandhi Medical College, Bhopal, M.P. It was during his M.S. that he developed his interest towards Arthroscopy & sports Injuries. He further advanced his expertise in the field of Arthroscopy & Sports Medicine while working in New Delhi. On return to Indore he initially worked for Bombay Hospital, Indore, and then joined Index Medical College Hospital & research Centre, Indore where he works and teaches now.

Dr. Vinay is currently involved in teaching and training as a faculty in various conferences and workshops.

He has presented various research work in national & international conference.

Some of the research papers are published in reputed national & International journals.

He is a live member of Indian arthroscopy society and Indore Orthopaedic Association."